THE
NEW GENERATION
OF SOFTWARE SYNTHESIZER
Hexeract is a limitlessly powerful software synth, which has vastly expanded the potential musical palette for all artists. Create sounds with Hexeract that you never before believed possible, with the resources and functions to create, indefinitely and infinitely.

Available as a VST/AU/AAX plugin, as well as a standalone application for windows or mac. Built with HISE.
WATCH TRAILER
BUY NOW
The Fusion of Worlds...
Never before have the true essence and complexity of modular synthesis, and the very best of organic recordings/samples been fused together so mightily.

It's very difficult to get a software synth to sound like something real and natural. You want a synth sound in your music, but you want it to sound like something physical, not like a computer program trying to play music.

Hexeract does exactly this. You have before you a powerful software synthesizer, multiplied with the added dimension of organic recording, leading to sonic possibilities not even remotely paralleled by any software or hardware currently available.

Create sounds with Hexeract in seconds which, even if manually replicable (often not), could potentially take hours of manual sound design and editing.

Click here to read the manual (in progress and continually updating).
"Hexeract excels in both complex sound design and fundamental synthesis. It's unique options allow for incredibly creative results!"
"HEXERACT is a welcome surprise from Auddict.  The ability to apply FM to samples in a modular environment is just great, and it's capable of some serious dirt and weight.  Nicely done!"
"HEXERACT is a welcome surprise from Auddict.  The ability to apply FM to samples in a modular environment is just great, and it's capable of some serious dirt and weight.  Nicely done!"
Hexeract Takes Your Music To New Levels.
Three oscillators - choose from 120+ sampled instruments or standard non-sample synth oscillator waveforms.
Three filter modules, choose from - 6dB LP, 6dB HP, 12dB LP, 12dB HP, 24dB LP, notch, 12dB BP, comb and ring-modulation
Modulators include three LFO's (can be used for FM/AM/cutoff FM by turning up into audible frequency spectrum), three sequencers (step sequencer or custom curve/shape), three extra envelopes, midi CC, velocity or random (RND).
Up to 8 unisono voices per oscillator - individually stereo-spreadable and de-tunable.
FM "pitch followed" synthesis per osc, release trigger, reverse samples
FX per oscillator include - Chorus, Degrader, Delay, Limiter, Phaser, Reverb, Saturator, Stereo Enhancer.
Master dynamics - compressor and limiter. Master FX include chorus, degrader, delay, limiter, reverb, saturator and stereo.
Fully fledged Arpeggiator, up to 32 steps, with "wait" function, octave shift, order-reshuffle (six modes), transpose per step, division select, tempo select with "sync", gate and velocity sliders, and swing.
Hexeract's versatility suits all musical styles. A masterful tool for creating truly organic, lush, wide textures for film scores, risers/falls for hard-hitting trailer tracks, it can also create anything from authentic 80s leads, EDM plucks, to brutal dubstep "wubs". Hexeract can create the most organic sounds, the most electronic "synthesized" in-your-face sounds, plus all degrees in between. You can even load your own .wav samples in.

Virtual patch bay. Interactively pull virtual patch cables from the modulator panel at the bottom of the OSC tab to various inputs above. There are many more available modulation targets, all accessible via the modulation matrix, where you can manually add connections if you prefer.
Oscillators & Filters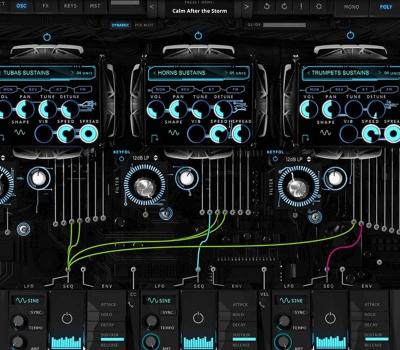 Three feature-rich oscillators (two tabs of controls each), from which to choose your starting sample libraries or synth waveforms (actual oscillators) from a vast collection. Each oscillator has a dedicated and modulate-able filter with a fantastic, fat sound, multiple filter curves, resonance and key-follow control.

One of many diamonds in Hexeract, is the ability to turn up unison voices and de-tune/spread organic sounds, akin to what you'd do with multiple synth oscillators. Intuitive and clever programming allows this to happen without any adverse phase cancellation, with random phase/start mod per voice so you never hear exactly the same sound. The results are breathtaking.
Modulation and FX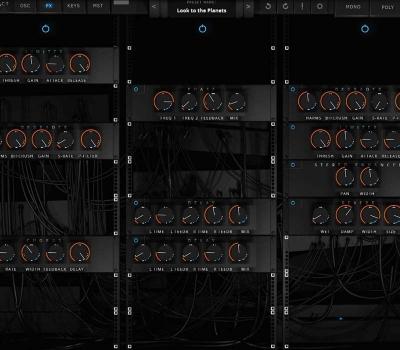 Choose between either the interactive patch bay, or the manual mod matrix to add modulations to your sound, with a huge list of modulate-able parameters. 

There is a panel of route-able modulators, (plus each oscillator has a dedicated ADSR and vibrato LFO if needed), including three LFO's, three Sequencers, three envelopes, MIDI CC, velocity and a random CC generator.
The FX tab allows you to add FX in a rack style environment.

You can add instances of chorus, degrader, delay, limiter, phase, reverb, saturator and stereo enhancer to the rack slots available.
Arpeggiator, MST & More...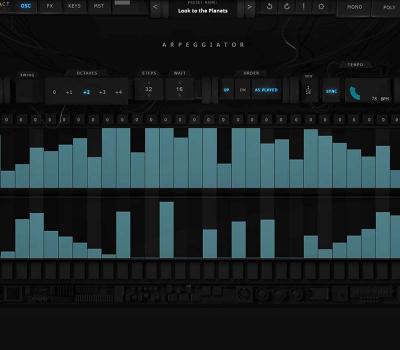 A powerful 32 step arpeggiator, with plenty of controls to mess with your sequence and create interesting patterns. Gate sequencer, velocity sequencer, swing, set intervals per step, transpose per step, altering the order of your sequence are just a few of the many features available on the ARP tab.

Use the MST to add a master compressor, limiter and up to six FX modules to the overall sound.

We couldn't even begin to describe all the features of this synth on our web page, so please check out (constantly being updated) manual to see an in depth look at all included features and how everything works.
At the inception of sound synthesis, a world of endless possibility was made available, and is still being explored to this day. Multiply this with the very best of sampled instruments, organic sounds, boundary pushing sound design possibilities and controls, and you have Hexeract – not just worlds, but an entire universe to be explored...
FEATURES
- Over 100+ Sampled Instruments
- Synth Oscillators
- LFOs, ADHSRs, SEQs, ARP
- Filters with Multiple Shapes
- Up to 8 unis voices per OSC
- 8x FX Modules
- 42 Modulation Targets
- Standalone, VST, AAX, x84 x64 bit versions
- Compatible with all major DAWs
- Resizeable (sharp picture even in 4k)
- Import custom samples (loop points detected)
- Seamless sampler/synth integration
- FM, AM, Cutoff-FM
- Master Compressor, EQ and Limiter
- Dynamic Modulation Display Rings in OSC
TECH SPECS
- Runs in Windows/Mac
- RAM 2GB (Ideally 4GB)
- 4GB Free Space (Extraction and Installation)
- Runs out of the box, no additional software required
BUY NOW
Videos
Explore the vast possibilities through our demo tracks, videos, specs and more descriptions for some of the finer intricacies. The true artistry however, lies ultimately with you. We've created and given you this amazing tool, and look forward to seeing you do your part as the artist, and hearing the amazing creations that you come up with using Hexeract...

MORE DEMOS COMING SOON...
Basics: Pulsing Bass
Basics: Soundscaping
Basics: Pulsing Bass
Preset Overview #1
Basics: Soundscaping
Video 4
This is a video showing blah, and blah and what you can do blah. Use blah to do blah and then blablablah. Hexeract bla bla bla with lba makes bla and you can then bla for bla.
Video 5
This is a video showing blah, and blah and what you can do blah. Use blah to do blah and then blablablah. Hexeract bla bla bla with lba makes bla and you can then bla for bla.
Video 6
This is a video showing blah, and blah and what you can do blah. Use blah to do blah and then blablablah. Hexeract bla bla bla with lba makes bla and you can then bla for bla.
Why Hexeract?
Immaculate quality of the samples and components. The samples were expertly cleaned with multiple layers of intricate yet transparent adjustment to make sure they play pristinely.
Add your own custom .wav file sample to the oscillators.
Large preset collection, ready for you when you install to dive right in, spanning multiple styles to give you a great head start into sound designing with Hexeract.
Auddict's instruments quickly make their way into the hands of world renowned composers, rock/pop stars, producers and more, often used in productions heard by millions worldwide.
Resize-able instrument GUI, sharp and easily used on smaller screens, or large and crystal if you choose to run it in all its glory on a 4K screen.
Expandability. The potential to add extra sample expansions and preset packs which we will be releasing.
A Few More of Hexeract's Diamonds
Hexeract is such a new concept and visits so many uncharted territories, that we couldn't possibly explain and go through all of them, but here are a few more of our favourites:
"Per note" feature. Freezes every individual note's parameters for all controls at the point in time they are triggered, on a "per note" basis. A simple example: LFO-1 modulating OSC-1 pan with a fast ARP playing... each note will play and stay at a different point in the stereo field. Extremely useful for creating textures and atmospheres, but the uses are really endless...
Sound sources include fully fledged sampled instruments, including multi RR sounds, multi dynamic sounds, sampled on a per note basis, as well as actual software synth oscillators. Choose from a vast collection including orchestral sections, experimental sound design, vocals, organs, traditional instruments, vintage synths, percussion, solo winds, guitars and much more.
Dedicated FM per oscillator, or use our LFOs and other modulators at high speeds to create fantastic new textures and even amplitude modulation. Try adding two stages of very subtle FM to create very analogue sounding patches.